1. INTRODUCTION TO ANTI-DOPING, PRINCIPLES AND VALUES ASSOCIATED WITH CLEAN SPORT AND THE ANTI-DOPING LANDSCAPE
The use of doping substances or doping methods to enhance performance is fundamentally wrong and is detrimental to the spirit of sport.
Fencing is based on the fundamental values of the Olympic Movement, especially: respect of the athletes, officials, referees and spectators, politeness, loyalty, sportsmanship, discipline and observance of the rules. Drug misuse undermines the values and integrity of fencing and can be harmful to a Fencer's health and to other Fencers competing in the sport.
To honour the vision, values and integrity of the sport of fencing, a commitment to Clean Sport is critical. The FIE is dedicated to complying with Clean Sport regulations and helping to educate fencers and fencing support personnel about their importance.
The Clean Sport landscape is explained here. The World Anti-Doping Agency (WADA) is the independent international body responsible for harmonising anti-doping policies in all sports and all countries. The World Anti-Doping Code (Code) is the core document that harmonises anti-doping rules and regulations around the world. The Code is supplemented by eight International Standards , including the Prohibited List that is updated at least annually.
As a Signatory of the World Anti-Doping Code, the International Fencing Federation is responsible for implementing an effective and Code-compliant anti-doping program for the sport of Fencing. The International Fencing Federation also has its own set of anti-doping rules and it is important that those involved in the sport are familiar with them. These rules can be found here: International Fencing Federation Anti-Doping Rules
.
Organisers of competitions and anti-doping officers must refer to and implement the FIE Anti-doping Operational Instructions.

The International Fencing Federation has delegated the management of its Out-of-Competition Testing, Risk Assessment, Test Distribution Planning (TDP), Education, Athlete Biological Passport (ABP) Administration, Therapeutic Use Exemptions (TUEs), part of Results Management (RM) and Whereabouts activities to the InternationalTesting Agency (ITA), an independent organisation that manages anti-doping programs on behalf of International Federations and Major Event Organisers.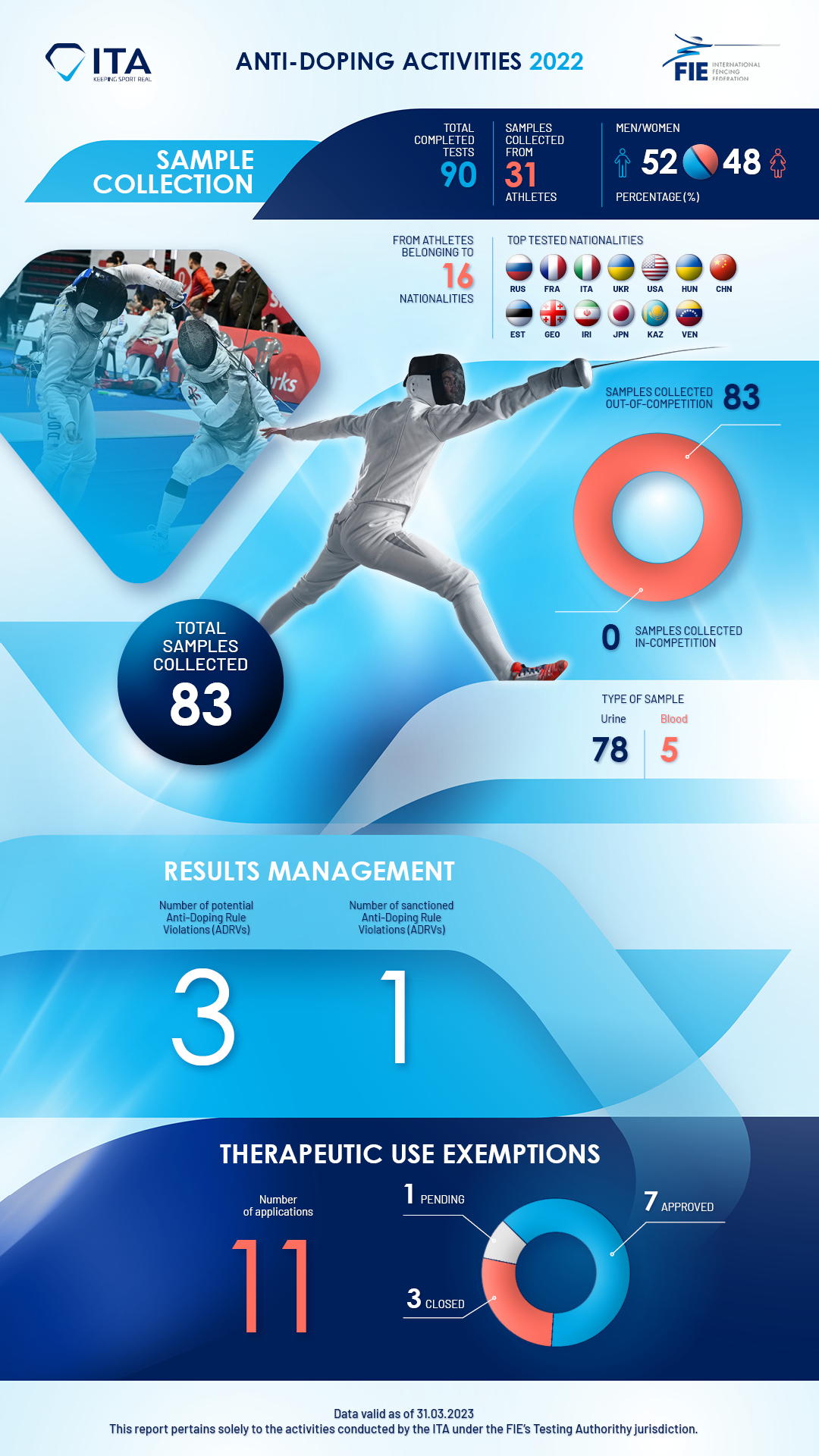 https://ita.sport/partner/federation-internationale-descrime-fie/